Massage Envy Franchise vs. MassageLuXe: Which is Best?
Researching for the right franchise in the right industry is like sculpting, chipping away a tiny bit at a time, as the ultimate work of art finally becomes clear. What can begin as a block of marble becomes, with time and care, something special.
It is critical for an aspiring franchise owner, at the outset, to choose a growth industry. Starting with the widest lens possible, from the global view, the massage spa industry certainly is an excellent one for entrepreneurs to consider.
According to research firm Technavio, the global spa market size will grow by $34.41 billion during the 2019 to 2023 period.
Dialing in a little closer, the U.S. spa industry reached a record high in revenue of more than $17.5 billion in 2017, according to The International Spa Association. The American Massage Therapy Association (AMTA) reports that massage therapy is an $18 billion (and growing) industry in the United States.
Additionally, Entrepreneur places massage spas in the "Beauty/Grooming" segment and calls it one of the hottest franchise categories of 2020.
Massage Envy Franchise Vs. The Competition 
As prospective business owners zoom in to a more granular franchise brand level evaluation within the U.S., two names typically pop up again and again: MassageLuXe and Massage Envy. The brands are two of the most well-known players in the massage spa industry.
Careful examination and comparison of the two brands is helpful in selecting which is the better investment.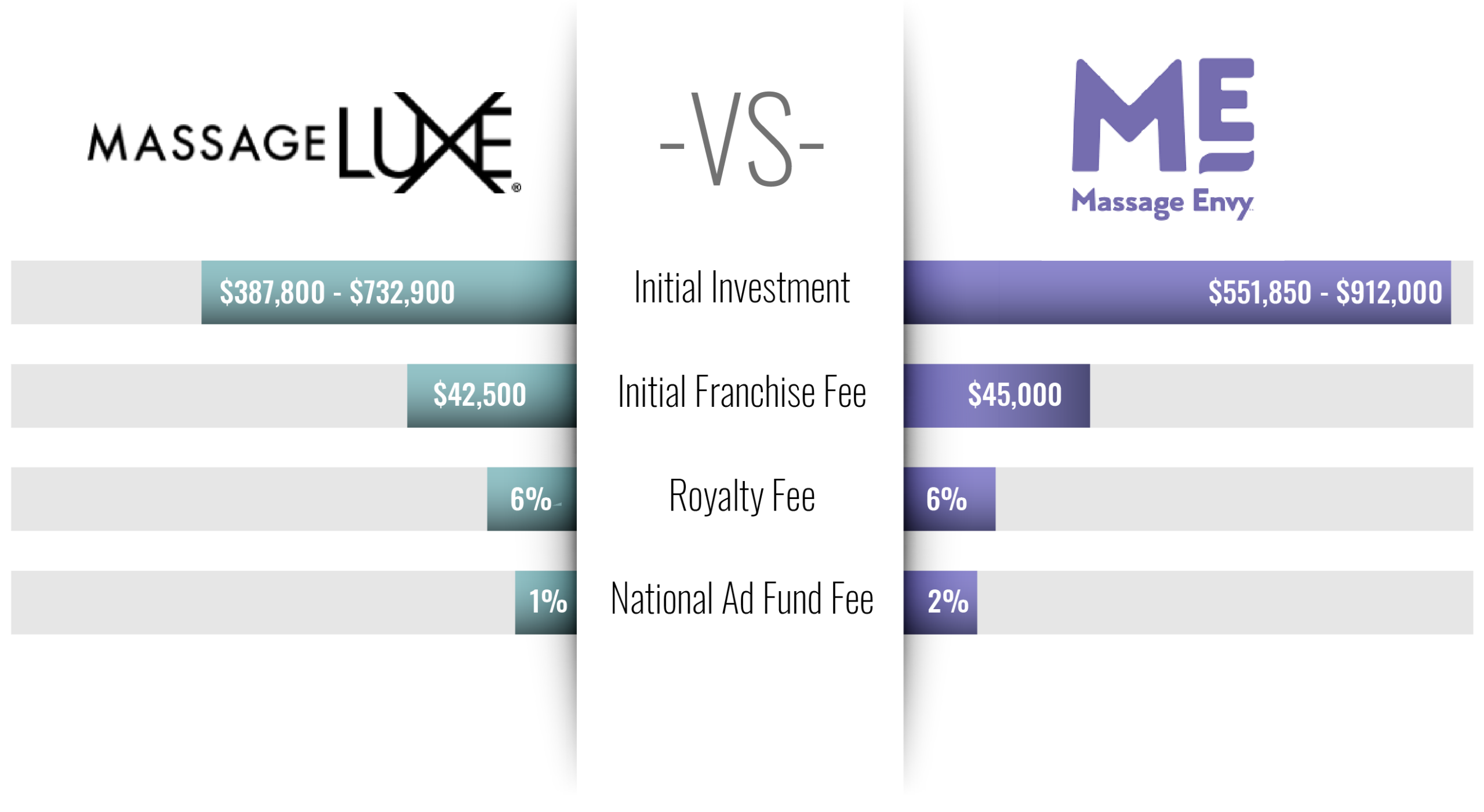 Reputation
If you have already reduced your choice to these two brands, you know both have brand recognition. But is it good or bad recognition overall?
MassageLuXe is positioned at the higher end, quality-wise, of the spa category, offering a luxurious and high-class experience. The brand prides itself on hiring the most qualified massage therapists and finding future franchise owners who share its passion and vision.
It is a recognized and trusted brand. Locations feature a modern, relaxing, and cohesive spa design.
From the industry's viewpoint, even though Massage Envy has been around longer and thus has more units to date (details below) and the brand recognition that goes with it, MassageLuXe is the brand on the rise.
In the Entrepreneur 500 ranking of the best franchises in the United States in 2020, MassageLuXe, founded in 2008, ranks No. 297 out of 500 (up from 485 in 2019) and fourth in the Massage Services franchises category. Massage Envy, founded in 2002, did not make the 2020 top 500 franchises list (but did make the 2017 edition) and ranks behind MassageLuXe in the Massage Services category.
Both franchise brands have proven to be sustainable over time (The Balance advises looking for franchises that have survived for at least a decade or have major potential for growth). However, in its shorter life span, MassageLuXe arguably is surpassing Massage Envy in industry reputation.
Massage Envy Franchise Cost & Profitability 
According to Entrepreneur, Massage Envy's initial investment ranges from $551,850 - $912,000 (TheFranchiseMall.com lists it at $567,850 - $840,000) and a franchise fee of $45,000. Its ongoing royalty fee is 6 percent, and its national ad fund fee is 2 percent.
MassageLuXe is more affordable, requiring a relatively low initial investment that may range from $387,800 - $732,900 and a franchise fee of $42,500. Its ongoing royalty fee also is 6 percent, with a national fund fee of only 1 percent.
That all means higher profit margins for MassageLuXe owners. On average, each mature MassageLuXe location produces more than 20 percent in profit margin each year based on the information provided in their current Franchise Disclosure Document. Massage Envy's website states that franchisees see an average unit volume (gross revenue before expenses) of $1.21 million annually, but percentage of profit margin is not noted.
MassageLuXe VS Massage Envy

 

MassageLuXe Franchise

Massage Envy Franchise

Initial Investment

$387,800 - $732,900

$551,850 - $912,000

Initial Franchise Fee

$42,500

$45,000

Royalty Fee

6%

6%

National Ad Fund Fee

1%

2%
Bigger Opportunities
In addition to single-unit franchises, MassageLuXe also offers Multi-Unit Development Agreements (MUDs), for three units, to qualified, experienced individuals.
MassageLuXe multi-unit developers get franchise development rights to a number of units within a territory based on various market and economic conditions including population, household earnings, and other demographic criteria. The minimum MUD agreement is for three (3) units.
An owner's commitment to developing multiple MassageLuXe spas is rewarded with a reduction on the initial franchise fee on their second and third locations. In 2017, Massage Envy began offering multi-unit agreements as well.
Business Model
MassageLuXe is known as a pioneer of the membership revenue model, with no long-term commitments, in the realm of massage services. This flexibility of options for customers provides franchisees with a consistent revenue stream, reducing time spent on administrative work and billing.
The scope of MassageLuXe services includes Swedish massage, deep-tissue massage, prenatal massage, sports massage, aromatherapy, and hot stone massage. Beyond massage, the brand offers VIP facial treatments of many types as well as eye and scalp treatments. Special packages roll massage therapy, facials, eye, and scalp treatments into one offering.
Additional revenue streams through retail sales and the option of facials and waxing services provided via the brand's sister concept, FaceLuXe, give franchisees more ways to make money. Massage Envy also uses a membership model and has retail sales in addition to its services, which include trigger point therapy, Swedish massage, deep-tissue massage, and sports massage, as well as facial and skincare offerings.
Recent and Expected Growth
The most recent growth figures show MassageLuXe having expanded its reach by 12.3 percent (seven more units) over the last year and by 48.8 percent (21 new units) over the last three years.
Global sales are more than $47,680,081 across 68 units.
MassageLuXe's "explosive" franchise expansion plans involve having 250 spas open by 2024.
According to FranchiseChatter.com, Massage Envy is trending downward. The company expanded from 457 units in 2008 to a peak of 1,189 in 2017 but since has dropped to 1,161.
Franchisee Support and Training
MassageLuXe provides franchisees with a turnkey experience, including guidance in all stages of start-up. The company assists with site selection, facility design, third-party financing resource relationships (to cover startup costs, equipment, inventory, accounts, receivables, and payroll), and more, to make owning a franchise straightforward and relaxed.
Hands-on training starts at MassageLuXe headquarters and flows through franchisee spas prior to opening. The company also provides manuals, videos, and supporting materials through seasoned trainers.
The company gives its owners a big marketing advantage by working with professional marketers to promote locations across the country. This benefits each owner in the form of lower marketing costs and increased marketing reach.
MassageLuXe also supplies franchise owners with management software to coordinate all aspects of the business, including scheduling client services, membership and sales tracking, financial management, and reporting to the owners and the franchisor.
Owners of MassageLuXe franchises also buy into a network of experienced entrepreneurs. Fellow owners are an excellent resource for networking and problem solving. Massage Envy holds classroom and hands-on field training, as well as online training and webinars. Like MassageLuXe and most franchise models, Massage Envy offers owners customized management software and financial administration tools. The brand also provides assistance with site selection, therapist recruitment, and marketing.
Conclusions
Though MassageLuXe has fewer units at present than Massage Envy, MassageLuXe is on an upward growth trajectory, while Massage Envy appears to be shrinking.
Massage Envy still boasts more locations nationwide. However, MassageLuXe operators have the exciting opportunity to enter the same markets and compete by offering higher quality services.
Both brands have the same ongoing royalty fee (6 percent), but that's where the parity ends in terms of fees. MassageLuXe has a lower initial investment range, lower up-front franchise fee, and lower national ad fund fee, giving its franchisees a solid profit margin advantage. In the massage industry, MassageLuXe is the stronger contender, as recognized by objective expert rankings. As a rising star in the massage spa franchise world, MassageLuXe gives franchisees the opportunity to stand out with a higher quality spa experience and stake a profitable foothold.
About MassageLuXe
Founded in 2008 in St. Louis, Missouri, MassageLuXe is a fast-growing franchise-based spa company with a mission of delivering the highest quality massage while providing a comfortable, relaxing, and luxurious environment to clients. To further this mission, MassageLuXe also grants clients access to Repechage facials and waxing services.
Massage is a service that improves health, promotes relaxation and overall well-being for the consumer, and has been practiced throughout the world for thousands of years. MassageLuXe currently has 68 locations across 16 states and is planning to expand to 250 locations in the next five years.
To learn more about spa franchise opportunities with MassageLuXe, scroll down to fill out the contact form below. 
Other articles you may like: