The Best Massage Chains to Open: Analyzing the Competition
As an entrepreneur looking for the best investment opportunity, studying recent trends provides great perspective. With the wellness industry exploding as more people are seeing the benefits of self-care and healthy lifestyles, it's clear why businesses like massage therapy chains are performing well and showing promising growth.
Ever-Growing Wellness Industry 
The Global Wellness Institute reports that the global wellness market is valued at $4.4 trillion with nearly 30% of that, or $1.2 trillion coming from the U.S. One of the leading contributors to that price tag is the expanding massage spa industry which Statista values at $19 billion here in the U.S.
Investing Through Franchising
Couple the industry's value with the success of franchising and it's a winning combination. Franchising is an appealing model for those in business for the first time, or seasoned investors, as it's proven to be an effective business strategy for many brands. One reason for its success is the ability to leverage the strengths of both the franchisor and franchisee. The franchisor provides a tried-and-true business model, established brand recognition, and ongoing support, while the franchisee brings local knowledge, entrepreneurial spirit, and a vested interest in the success of the business. This collaboration allows for rapid expansion and scalability, while minimizing risk and investment for the franchisor. Additionally, the franchisee benefits from the name brand recognition, access to training and support, and the ability to operate under a proven system.
A Closer Look at Three Leading Massage Chains
Among the leaders in the $18 billion massage industry, three of the best massage chains that are stand-outs with considerable brand name recognition include the MassageLuXe franchise, Massage Envy franchise and Hand and Stone franchise. All three operate as spa franchises with a membership model—all brands offer 10-year franchise agreements with renewable terms. But there are some differences among the three. Here's a comparison.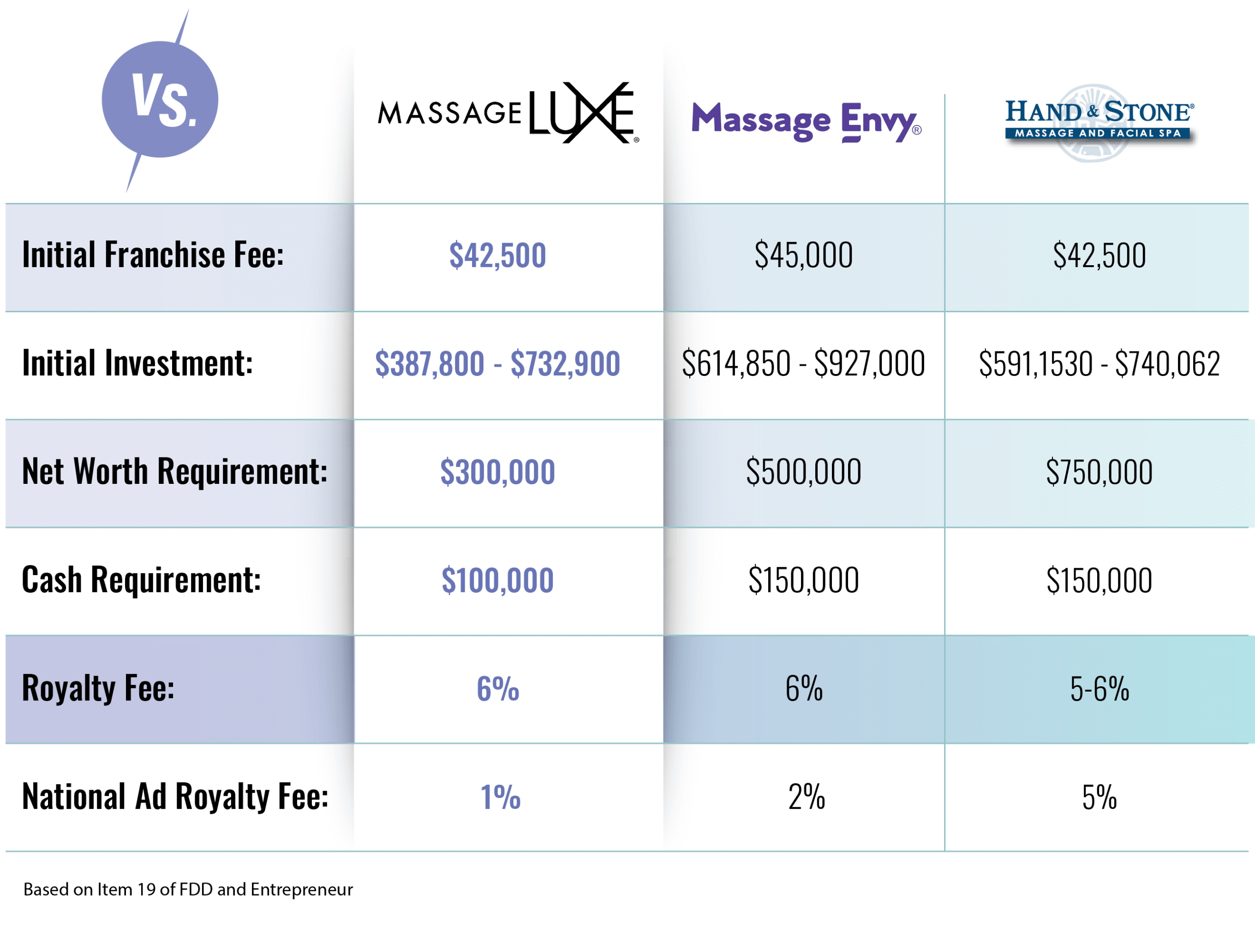 Hand and Stone Franchise 
Hand and Stone has been franchising since 2006, has 539 units, and has experienced a 14% growth over three years according to Entrepreneur.
This franchise utilizes a membership model called the Healthy Lifestyle program. It gives members a choice of a one-hour massage or signature facial each month with membership at a lower price than non-members. This membership qualifies participants to earn points based on services.
Franchisees are not expected to have expertise in any of the three services provided by Hand and Stone which include massage, facials, and hair removal. Their comprehensive training for franchisees includes 85 hours of on-the-job training and 57 hours in the classroom.
Massage Envy Franchise
Massage Envy has been operational since 2002 and began franchising a year later. Massage Envy has 1,100 locations but has experienced a 5% decline in growth over the last three years, according to Entrepreneur.
This franchise also operates with a membership model. Massage Envy provides three services including massages, customized stretching, and facials. The membership model provides special pricing in addition to family and military discounts.
Massage Envy franchisees need to be passionate about wellness. The franchise development team provides 10 days of on-the-job training and 38 classroom hours to prepare franchisees for ownership.
MassageLuXe 
In further comparison of the best massage chains, the MassageLuXe franchise, franchising since 2008, has 76 units and has experienced 17% growth in the last three years.
MassageLuXe is a membership-based spa franchise offering massages, facials, and waxing. At MassageLuXe, we know how important pampering is, but our services – especially massage – is more than self-care. Massage can reduce stress, anxiety, and pain while promoting mental health and personal well-being. Effective therapeutic massage provides pain management and relief for people suffering from numerous ailments and chronic conditions. At MassageLuXe, we're one of the best massage chains because we not only provide top notch services, but we are committed to educating our clients on the health benefits of massage and facial care on a routine basis. We offer four levels of membership with no contract. All levels are designed to provide customers with our monthly services and cost savings for additional purchases. Plus, our memberships include unlimited use of our exclusive HydroLuXe dry water massage sessions.
As a franchise owner of our massage spa franchise, you can own single and multi-unit locations. You can enjoy a quick ramp-up with early earning opportunities thanks to an expanding service line, and product offerings. We offer 72 hours of on-the-job training and eight hours of classroom training, to prepare you for the excitement of business ownership.
In a side-by-side comparison of the best massage chains, it's clear why MassageLuXe is experiencing promising growth. Our costs are lower than our competitors and we are gaining strength in the industry because of our focus on wellness and the high standards we set every day at our spa locations throughout the country.
To learn more about spa franchise opportunities with MassageLuXe, by filling out the form on this page.
Other articles you may like: